About us
Pioneer Radiator established in the year 1980. Our portfolio of products includes radiators, heat exchangers, oil coolers for various industries. Our unit is located in chennai, one of the major cities in india. We have a dedicated team of engineers for product development and R&D. We are in this field since three decades and remained a dominant player in its markets and rising expectation of our valuable customers. We produce specialized art technologies, quality, value added features, cost effective and customer oriented operations.
Capability
Our capabilities are not limited to in house design, research and product developments, but also with state of art technology. We are specialized for supply of new radiators, oil coolers, intercooler and heat exchangers for mining, power, heavy industries, automotive, heavy haulage, under ground mining and various refineries.
Customer focus
Customer is the life line of the company. Customer requirement is taken in to focus and appropriate strategies are adopted to provide comprehensive product solution. Honouring time schedules in delivery, cost effectiveness, supplying quality oriented products have proven our massive & steady growth. As a technology driven company, we place great emphasis on ensuring customer satisfaction by strengthening the technical expertise, innovative product design, meticulous quality level etc., We always provide excellent service support in sales and service in time and this philosophy has enabled us to establish firm goodwill and brand name.
Quality policy
Our objective is to continuously strive to build quality in every step of every process until we have a defect free product that totally satisfies our customer requirement.
We assure that each product is inspected with quality and testing norms assuring before assembling and final dispatch to meet the customer requirement and OEM quality.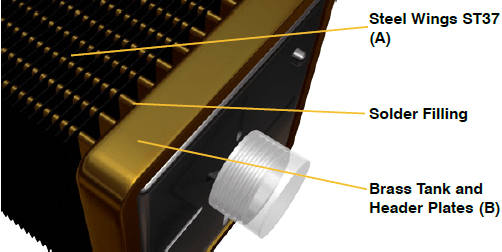 Product range :
Radiators
Oil coolers
After coolers
Heat exchangers
Condensers
Safety valves & caps
Achievements :
Over the years we reached several mile stones on our endeavor with the support of our valuable customers. In the process, our products are strongly approachable with repeated orders.
Mission :
We are still left with lots of milestones to cross in the path of growth and we are confident that we will reach the peak and achieve our goal with fullest support and co-operation for our valued customers like you.